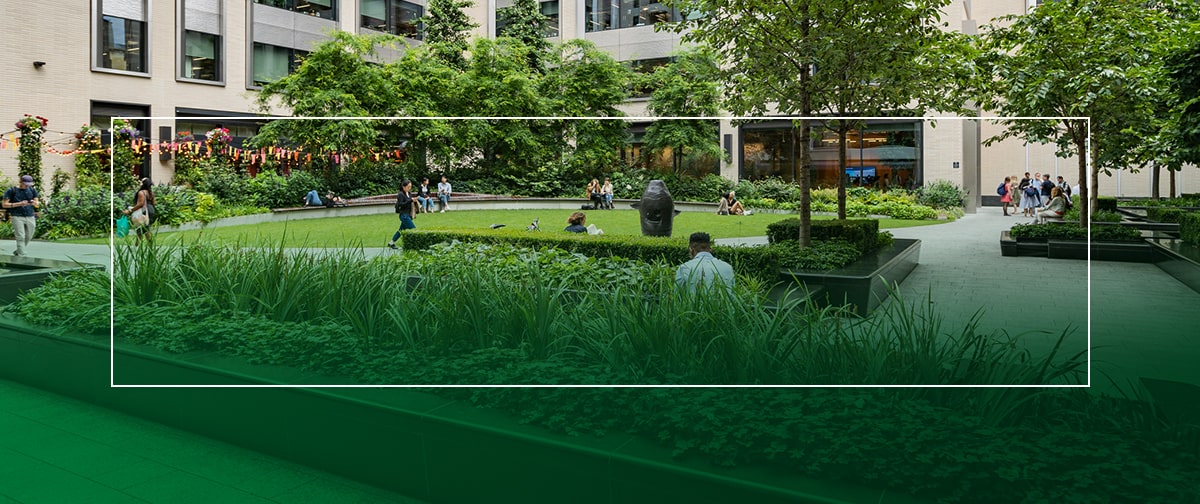 Landscape Maintenance and Greenscape's Commitment to Sustainability
Commercial landscaping is an extension of your building's values and personality. Converting the inside of your building to sustainable energy and incorporating green-building practices is a step in the right direction. You can take that further by using sustainable landscaping in the space around your building.
While there are many social benefits to using sustainable practices, there are also many practical advantages. For example, you can expect a reduction in day-to-day maintenance. Biodiversity will increase, allowing nature to attend to common garden issues naturally. A few other benefits include:
A larger range of biodiversity increases bird life, which in turn, reduces pests.
You'll reduce your watering needs by using native plants.
Your business's energy efficiency increases, especially if you've contracted sustainable landscaping services
How Greenscape Applies Sustainability to Landscaping
Greenscape Land Design has committed to becoming a sustainable landscape maintenance company. We have started the process of growing our electric fleet of noise-reduction mowers and vehicles. Our tools are electric, which reduces the usage of fuel.
Greenscape has partnered with interested clients in providing a more sustainable landscape maintenance approach. Greenscape has the ability to service your property with an electric maintenance fleet, that will reduce not only the emissions created, but the significant reduction in noise generated.
We offer clients a smart irrigation water system that is eco-friendly and uses the right amount for your requirements. Our plant options are extensive, and we have a wide selection of native foliage for your location.
In the snow business, we have focused our efforts on reducing the negative impact of salt applications on the landscape. Our Brine application fleet of equipment not only improves the service of de-icing but significantly reduces the volume of salt applied to roads and parking areas.
Sustainability is about all of us, which is why our sustainable commitment is in the way we service your commercial property and in how we run our business. A few services we provide are:
Emissions-free service equipment
Decibel-reducing small equipment
An electric mowing fleet on select properties
Water conservation technology
Salt-reducing brine applications for ice and snow


Types of Sustainable Landscaping
Specific landscaping strategies are more inclined to be sustainable by default. And sustainable landscaping isn't just about implementing one concept. It is about using a multiple-pronged approach to create an area that will last if maintained correctly. Consider these factors of sustainable landscaping:
Water conservation
Improved soil health
Reduced maintenance
Carbon footprint reduction
Native plant cycling
Here's how you can achieve those sustainable practices in your landscaping:
Let the Ground Breathe
Instead of pouring thick, hard concrete down on the soil that will affect the water flow and cause unnatural temperature changes, consider permeable hardscapes. Hardscapes allow water to naturally soak up into the ground, resulting in less polluted runoff into the water system. The natural material also has no effect on increased heat during the hotter seasons.
Some great examples of permeable hardscapes include pea gravel or river rock. If you are looking for a touch of color, consider decomposed granite. Using permeable hardscapes doesn't mean you have to have something crunchy underfoot. You can have a solid surface if you use porous asphalt or even use permeable interlocking concrete pavers.
Use Green Roofs
Green roofs are becoming more popular in the urban environment every year. They're a sustainable landscaping technique that uses the space on top of the building to create a sustainable garden. Green roofs provide an outdoor space for those working in the building to enjoy and relax. It also has several other benefits, such as:
Reduces heat fluctuations on roof materials, which could have caused damage
Adds to the insulation, which conserves energy
Absorbs rainwater, resulting in less pollutant runoff water
Another advantage of creating a green roof is that it is easy to implement other sustainable landscaping techniques, such as water conservation management systems.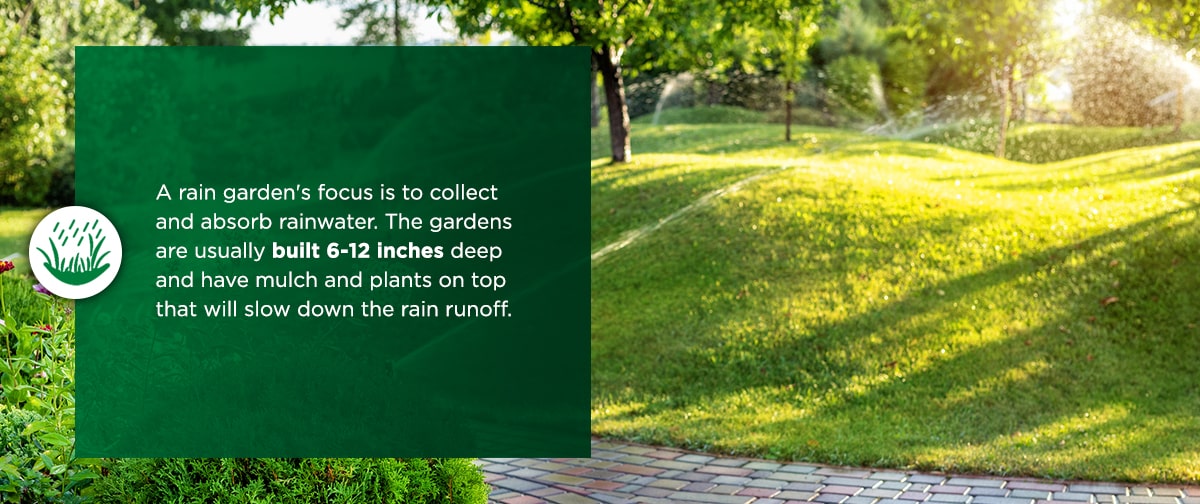 Try Rain Gardening
Xeriscaping reduces water usage and irrigation needs by using a set of sustainable practices. The practice is considered California-friendly landscaping, where the area often gets drought or low rainfall. But in the Mid-Atlantic and New England area, we have a different climate. A rain garden is similar to xeriscaping because it is about water control, but it is for regions that have higher rainfall.
A rain garden's focus is to collect and absorb rainwater. The gardens are usually built 6-12 inches deep and have mulch and plants on top that will slow down the rain runoff. Other sustainable advantages of using this style of gardening include:
Improved water quality from stormwater
Low-maintenance gardening
Use of native plants, which decreases maintenance and increases biodiversity
How to Achieve Sustainable Landscape Maintenance
Mimicking certain traits from nature can be both aesthetically pleasing and sustainable. Maintenance can then continue your sustainability goals after the landscape design phase. Ideas you want to strive for include:
Plant Local
Native plants are plants that grow naturally in an area. It includes all various plant types, from ferns to wildflowers, bushes and trees. Selecting plants that are native to your location will mean the plants are ideally suited for the weather, climate and rain levels. The maintenance will be less as the plant will not be in a challenging condition. Other benefits include:
Erosion control
Aesthetics as the plants will flourish
Weed suppression
Encouraging wildlife
There are also a few alternatives to grass that are native to Mid-Atlantic and New England regions. Common wild ginger is dense and spreads quickly in the shade. Another option might be the green-and-gold, which is also thick and has attractive small yellow flowers in spring.
There are also many options for native shade trees, including dogwood and redbud. They have attractive spring flowers and turn into striking sunsets in the fall. A wide range of maples and oak trees also grow naturally in this region. The thornless honey locust is a good option for creating dappled shade.
Make Other Considerations for Sustainable Planting
Block planting is striking, but combining a few types of plants can result in more benefits. For example, a pest might love a particular type of lily. But interplanting another flower or bush that the pest hates with the lilies will prevent it from eating the plant, minimizing your landscaping maintenance needs.
Looking at different heights also gives interest to the eye-line and attracts bird life. Birds are nature's pest control as they will keep your garden clean of insects and bugs, reducing the need for pesticides and creating more sustainable landscaping.
Save Water
Often, large commercial spaces will have a large stormwater runoff, either from the roof of the building itself or from the carports in the parking area. Your building manager might have suggested stormwater considerations for use in the building, but you can also use it in your irrigation system to maintain your landscaping.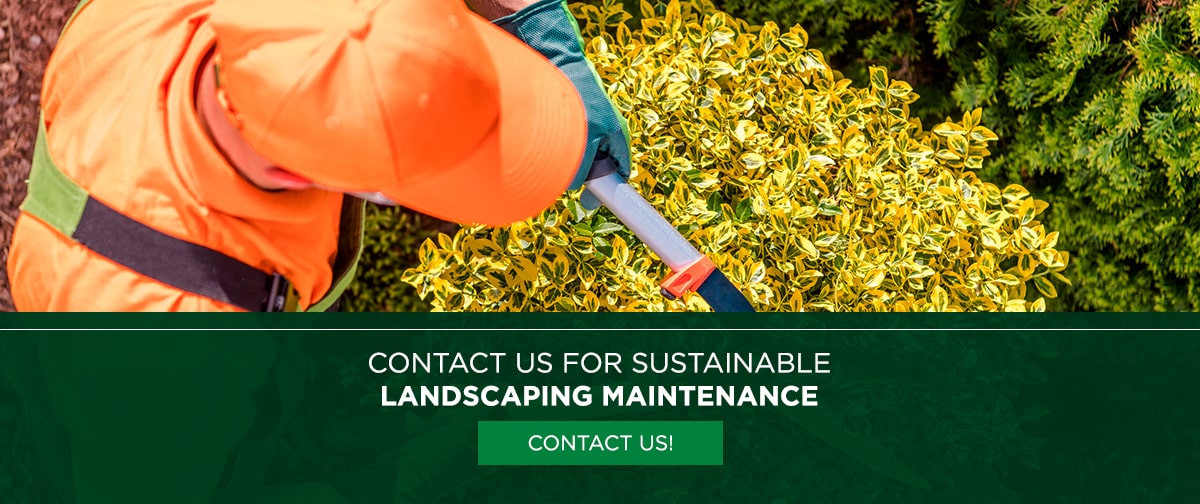 Contact Us for Sustainable Landscaping Maintenance
Our employees are all trained in green best practices and bring that awareness to any current project. As a prominent industry player, we can provide extensive resources, technology, and technical advice for sustainably maintaining large areas. We can work with you to meet all of your landscaping needs, like grounds maintenance, tree care, and seasonal installation, all while maintaining sustainability.
Let's make something beautiful and sustainable — chat with us about your property.