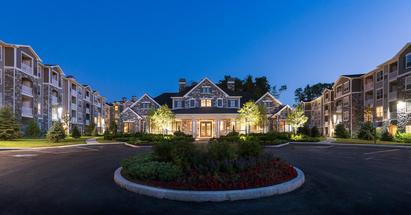 We could tell from the first day of laying the bluestone patio in the fall of 2016, this property was going to be a special one. The full-scale project was one we became exceedingly passionate about as we continued to see the remarkable progress take shape. "The Domain" in Foxborough, an apartment community developed, owned and managed by Hanover Companies is a beautiful 248-unit luxury apartment community stretching across 5 buildings and set in a tranquil area with convenient access to two major highways. Despite having completed several such projects with the Hanover Company, the excitement and passion that Greenscape enjoys by teaming with a company like Hanover to deliver such a high-end product both on schedule and on budget never gets old. This is the type of project and teamwork that keeps us passionate about what we do every day.
Our very own Dominic Perrelli (Branch Manager), shared his enthusiasm for the project citing the vast amount of meticulously arranged greenery. Dominic also pointed out the contrast created by the impressive entrance and leasing office designed to invite people in, and the tranquility created by a staggering 400 evergreen trees as well as 100 deciduous trees randomly, yet strategically placed throughout the property. All of this Dominic points out made possible by the collaboration between Hanover's Landscape Architecture team and the talented craftsmen on the Greenscape construction teams. Next team up…the Grounds Management team.
​Account Manager Matt Kukulka has done a tremendous job of ensuring quality of service and attention to detail across the full scope of work. "The Domain" in Foxborough is ideal in that we have the ability to be involved with both the construction and maintenance side. Dan Rezendes (Branch Manager), and our Maintenance team are thrilled about this expansive opportunity as it allows Greenscape to ensure consistency from soup to nuts. We are fortunate to work on projects we feel so passionate about with our loyal partner the Hanover Company. To check out exciting news and updates check out the links below!