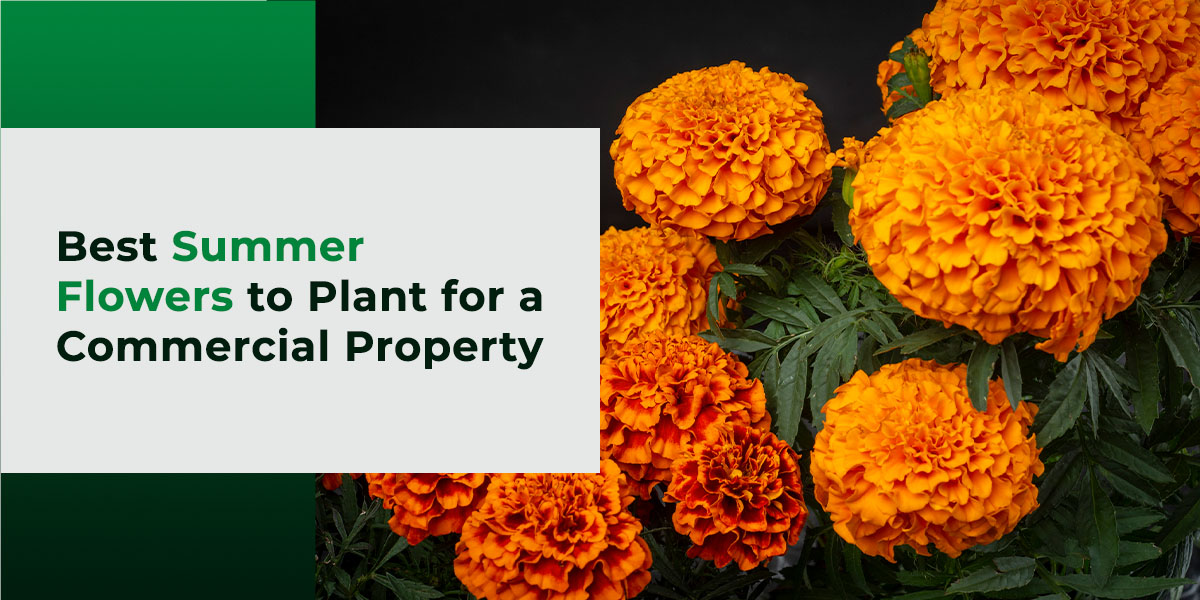 Summer is the perfect time to get outdoors and enjoy nature in bloom. And when you have a commercial property, what better way to bring people to your business than by planting seasonal flowers? Flowers breathe life and color into your business landscaping and make you stand out among competitors. Discover the advantages of planting flowers on your property's landscaping and the best summer flowers for attracting customers.
Benefits of Planting Flowers at Your Commercial Property
Colorful annuals and perennial blooms can help create a gorgeous space for tenants, employees, visitors and clients alike! From bright pinks and yellows to deep reds, you'll appreciate all the benefits these flowers that represent summer can do for your business.
1. Increases Your Curb Appeal
Adding flowers to any space can enhance its appeal to potential customers and increase your property value. Unsurprisingly, many real estate companies plant flowers to improve curb appeal and make properties look attractive and well-maintained. Any commercial property can do the same, making it a no-brainer for business owners to add lush, beautiful beds or flowerpots to their storefronts.
2. Creates a Welcoming Space for Clients and Employees
Flowers provide numerous health benefits. Being in the presence of plants and flowers can make shoppers feel less stressed and more relaxed. If you have a common area, that makes an excellent spot for spring and summer flowers. Employees, clients and tenants will enjoy a peaceful, gorgeous outdoor space to eat lunch, read, talk with co-workers and relax.
You might also consider planting beds of summer flowers and shrubs in large planters near seating areas. That way, anyone can view the plants up close and enjoy the delightful fragrance of their fresh blooms.
3. Makes You Stand out Among Competitors and Nearby Businesses
When you opt for flowers on your business property, you'll notice their effect on clients, shoppers and employees. Flowers are the gift that keeps giving — they'll make your buildings stand out among your competitors and nearby businesses and reflect your company's quality.
Place oversized pots of summer blooms near signage and entrances and attract guests by breaking up walkways or plazas with gorgeous, impressive flowerpots.
The Best Summer Flowers to Plant
A combined display of perennials, annuals and seasonal plantings will make customers notice your business time and again.
But what are annual flowers vs. perennials? In essence, annuals are flowers that bloom once a season and require replanting every year. In contrast, perennials only need planting once, and they'll return every year without you needing to lift a finger. Since perennials tend to have a shorter blooming period, most gardeners stick to a combination of perennials and annual flower plantings to ensure their space looks outstanding, no matter the season.
It's best to learn about the different types of perennials and annuals, the properties of a flower, and the color displays you can create and how to care for specific flowers before getting started. Learn these tips and more by reading about the best summer flowers to plant on your business property.
1. Peony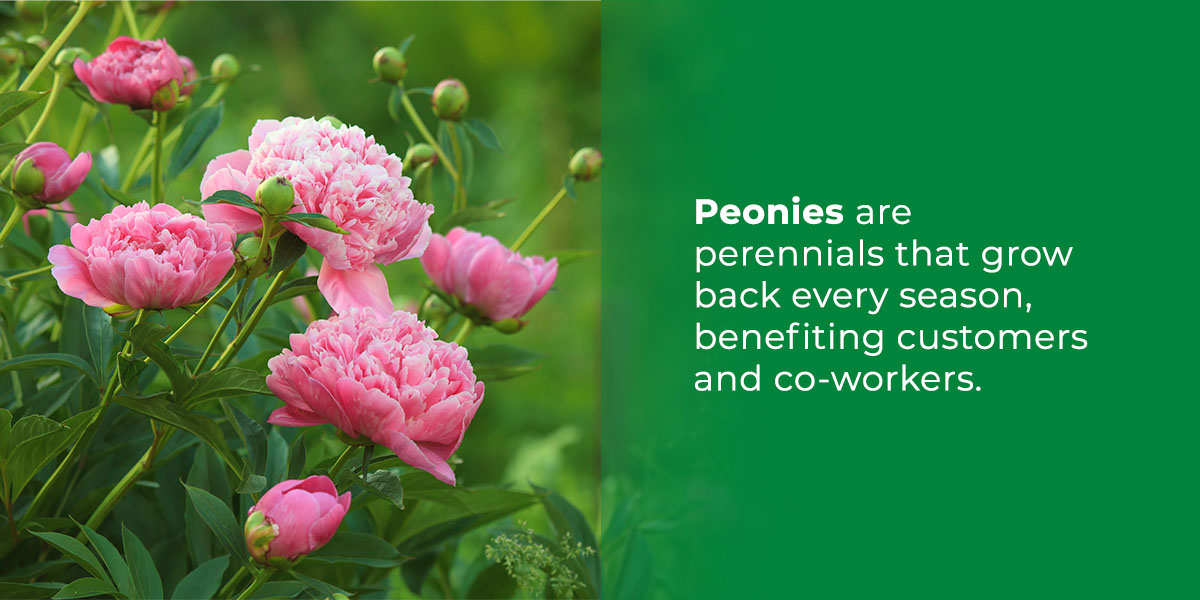 Peonies are perennials that grow back every season, benefiting customers and co-workers. Known for their colorful, fragrant flowers and lush green foliage, peonies bloom beautifully from late spring through early summer.
These flowers do best in sunny spots that get six to eight hours of sunlight daily. When planted correctly, peonies won't require much upkeep and can live for over 100 years!
2. Daylilies
The daylily is another astoundingly low-maintenance perennial. It's easy to grow and can survive drought, inconsistent sunlight and even poor soil. Choose from thousands of gorgeous daylilies — from early, midseason and late-blossoming varieties — to appreciate their blooms from late spring to early fall.
While these flowers require minimal upkeep, daylilies perform best in full sun and well-draining soil. Remember to water these plants once a week, so customers can appreciate them in all their glory.
3. Lobelia
The gorgeous colors and variations of lobelia flowers make them a must-have for your business. While cobalt blue is their signature hue — a rarity in the garden world — you'll also find lobelia in scarlet red, rose, lilac and vibrant tropical colors.
Plant them in full sun or partial shade to care for these flowers and water them consistently to keep the soil moist. Appreciate them throughout spring and fall, with perennials, half-hardy annuals and even shrub variations of lobelias. The mounding type or edging lobelia looks lovely in rows of plant beds or borders, while the cascading lobelia creates a gorgeous waterfall of sapphire once placed in window boxes or pots.
4. Lantana
Lantana is a hardy plant that does well in bright sun and is ideal for the warm summer months. Their abundant, vibrantly colored flowers make lantana a hummingbird and butterfly magnet! It's also an easy-to-grow plant that generally blooms for extended periods. Create a stunning display of lantana by selecting different hues, from yellow and orange to pink and red.
Lantana can tolerate many conditions, though it's best to plant it in well-draining soil and water at least once a week. As the weather starts to warm, these flowers will grow in abundance and create a gorgeous display of colors across your commercial property.
5. Marigolds
Calendula, or marigolds, are bright orange or copper yellow flowers that thrive in full sunlight. They come in perennial and annual variations, so your clients can appreciate their blooms again and again. These versatile flowers look gorgeous in hanging baskets, flowerbeds and containers. They're also a natural mosquito repellent! Place them around the border of your landscape to create a joyful entryway that will protect your customers and employees from mosquitos.
Care for these plants by allowing the soil to dry between waterings, water well and repeat the process. By regularly removing dying blossoms, you'll encourage your marigold to continue blooming bountifully.
Professional Landscaping and Flower Displays
Greenscape is a landscaping company dedicated to providing high-quality work for commercial properties. When you enlist our company for your landscaping needs, you can appreciate personalized solutions to ensure your property looks its best throughout the season.
Greenscape has worked with the following industries to provide high-quality commercial landscaping services:
Health care
Education
Retail
Hospitality
Public and municipality
We provide a one-of-a-kind, detailed approach to flower displays and annual flower plantings. Our expertly crafted landscaping will match your property's natural environment, make your buildings stand out and ensure a welcoming space for clients and employees. We craft signage displays, annual flower arrangements, communal outdoor spaces and more to transform your property.
What's more, Greenscape experts will assess your site's natural strengths to provide personalized, commercial landscape maintenance. We partner with you to plan goals and a budget, understanding these will evolve alongside your maturing landscape. With our carefully planned and timed seasonal services, you'll appreciate a lush, colorful landscape that's well-managed and well-maintained over time. You'll boost your company's image and protect your investment all at once.
Partner With Greenscape for Commercial Landscaping Services
A well-kept, gorgeous landscape of seasonal flowers is one of the best ways to represent your business' quality. Greenscape provides a wide range of commercial landscaping services to ensure every aspect of your property looks fantastic and receives the care it needs. We invite you to contact us when you're ready to learn more.