Tabor Academy is known on the South Coast of Massachusetts and beyond for being a prestigious, co-educational preparatory school. Tabor's impressive 88-acre campus is nestled next to the sea, offering stunning views from every perspective. With 69% of their 537-student body living on campus, it is clear that the campus landscape is of the utmost importance as it is the first thing visitors often notice. The seasonal elements that make the campus so captivating can also be challenging from a landscape and hardscape perspective due to the harsh and often unpredictable seaside environment. In the Spring of 2018, Greenscape was excited to take on the challenge and partner with Tabor Academy to provide our professional services to maintain and improve the well-manicured grounds on campus. Since partnering, there have been many updates and additions made to the stunning landscape.
Landscape Development & Enhancements for Tabor Academy
Greenscape brought our expertise and attention to detail and began immediately with our first updates. We started with planting renovations at the Stroud Academic Center, Lillard Hall, Knowlton Dormitory, Daggett House, and the Admissions/Alumni building. From there, we moved on to working closely with Tabor's in-house staff of licensed electricians and plumbers to automate and update the intricate irrigation system. The water used comes from a sustainable & replenishable spring thanks to Tabor's forward thinking. Their dynamic outlook inspired our efforts to create the most efficient system possible. This undertaking was particularly important as the re-design created a more effective system that can now handle the unique seasonal needs of the property. Due to the upgrade, more property is being served using the same amount of water, which aids in the success of the lawn fertilization program Greenscape implemented, resulting in lively colors and plush turf areas. In continuation of Tabor's sustainability efforts, we installed an artesian well purposed to further their water management program.
While maintaining a beautiful landscape can be challenging on its own, Greenscape had the pleasure of handling landscaping for a brand-new building that was completed in 2019. The Cornelia Hall needed all new plantings as well as an automated and updated irrigation system. With Tabor's esthetic in mind, Greenscape laid sod, added plantings around the new foundation, and planted mature Blue Spruce trees. In addition, we added to the functionality of the space by installing a natural stone terrace and walkway. The final touch was the addition of deciduous street trees to add a buffer and privacy from the street. This project was one Greenscape was proud to see from inception to completion. We take pride in our ability to seamlessly transition from construction to maintenance while ensuring the high quality of service is consistent throughout.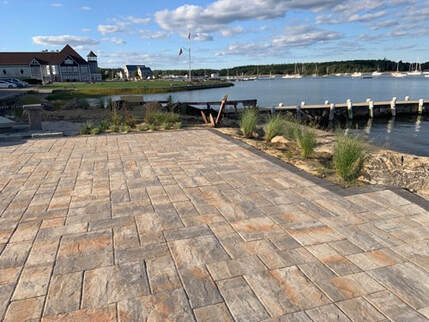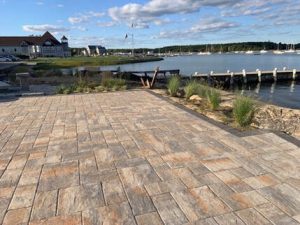 Our Continued Relationship & Ongoing Landscaping Projects
As the relationship and trust grew between Tabor Academy and Greenscape, additional projects were planned and implemented, and an excellent working relationship developed. Their faith and appreciation in our quality of work has been extraordinarily flattering & something we pride ourselves on maintaining.
The sincerest honor we have received is when we were asked to plan and build a memorial for a student who had passed away. We took on the request with the utmost care and attention, focusing on how to best honor the student, and rally the community. Additionally, we reached out to local vendors and suppliers in the community for their support. After generating various ideas, we decided to target a large area overlooking the water located behind Lillard Hall, the existing cafeteria. From there, a plan was in place to install a large raised paver patio with repurposed materials. Utilizing weathered granite and Native Boulders, we were able to capture the old town feel of the campus with brand new construction. Greenscape also used native sand and ornamental grasses to maintain the nautical theme the campus is known for. The memorial accurately represented the meaning & essence of what they were looking to convey. This beautiful space is a peaceful place to reflect upon the loss of a Tabor family member who had passed before his time.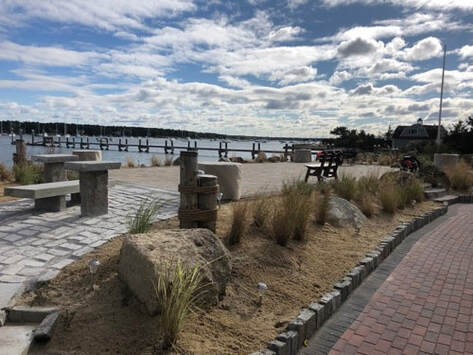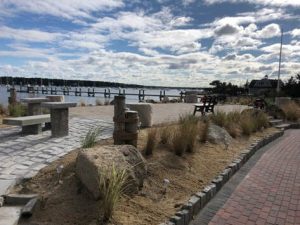 Through Greenscape's quality work, attention to detail, and expertise, we are grateful to continue to foster our working relationship with one of the most highly regarded preparatory schools in Massachusetts.