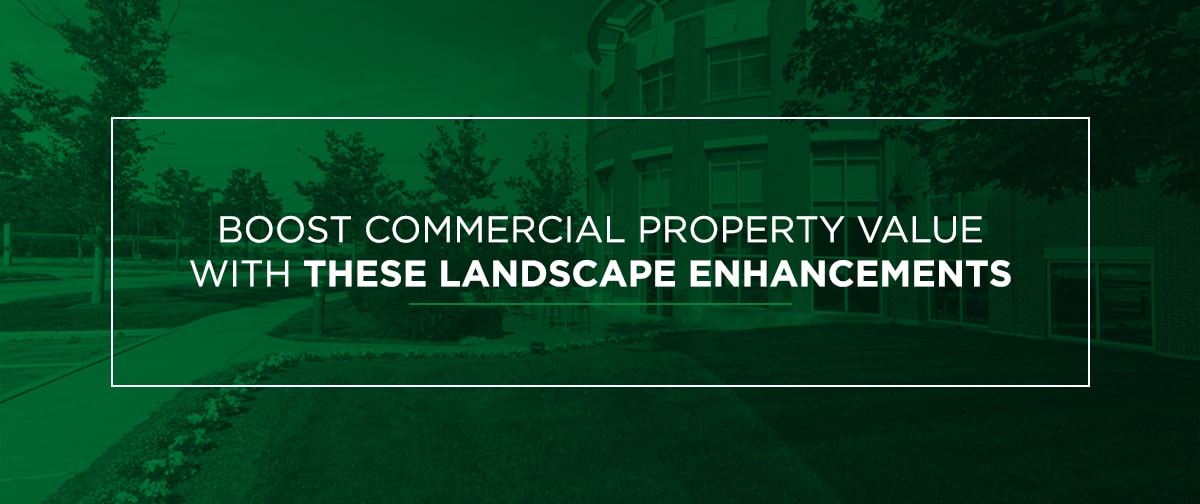 Finding ways to increase the value of your commercial property may be easier than you think. A commercial property's appearance plays a major role in its value. Not only does a beautiful, well-maintained commercial property seem welcoming and professional, but it also provides other incredible benefits that make professional landscaping well worth the investment.
Attracting New Business
When your commercial property looks its absolute best, tenants are much more likely to take interest in what the property has to offer them. Those with business ventures seeking the ideal location will appreciate a property that is properly maintained because it will reflect positively on their business. You will have more luck with signing long-term leases with tenants and if the time does come for them to move on, the amount of time it takes to fill the vacancy can be greatly reduced when your property makes a lasting first impression.
Employee Satisfaction and Productivity
The state of any work environment plays a major role in the satisfaction and productivity of employees. An excellent way to help your employees feel welcome is to provide a welcoming workplace. Landscaping can be done while keeping your employees in mind.
A lot of employers like to incorporate special features such as outdoor eating areas, manicured courtyards, and indoor areas with foliage into their landscaping designs. Other features in terms of hardscaping that can make a workplace feel special are gazebos, covered patios, and more.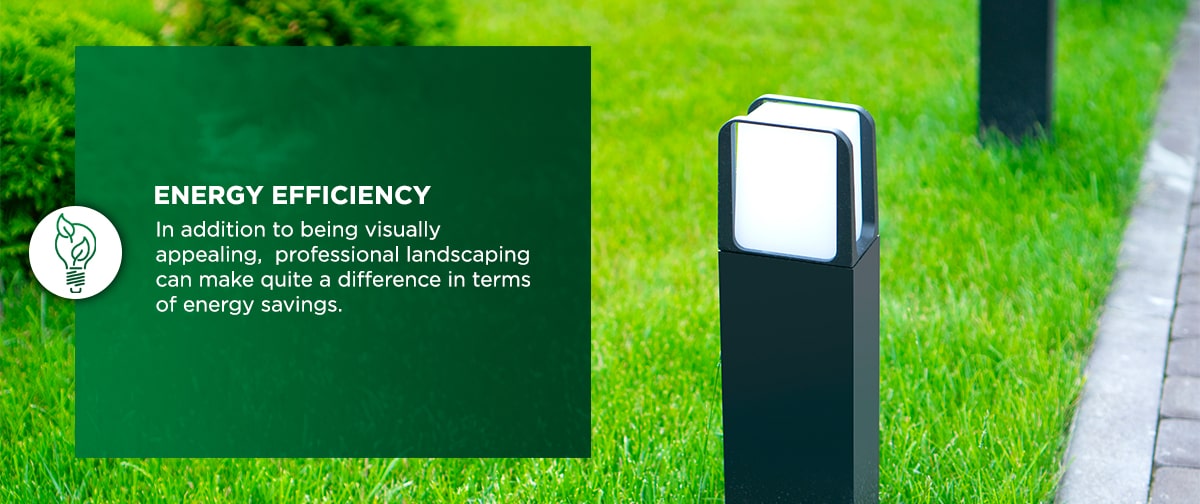 Energy Efficiency
In addition to being visually appealing, professional landscaping can make quite a difference in terms of energy savings. In fact, the National Association of Home Builders found that the utility costs of commercial properties can be greatly reduced with strategic landscaping. Hedges and trees that are properly placed around windows provide a natural form of insulation. This can really make an impact when it comes to lowering heating and cooling costs over time.
Drainage
If you notice that your commercial property struggles with flooding and other irrigation issues, professional landscaping can help. Drainage solutions can be easily incorporated into the landscape design to help protect the structure of your property. The right kind of foliage in addition to draining systems helps control groundwater levels and alleviate the amount of water that is able to gain access to your foundation. This can save you a big expense in the long run by eliminating flooding and erosion concerns.
Good Impressions
Potential clients and customers will be more likely to take interest in what your business has to offer if your commercial property looks outstanding. A beautifully designed landscape project with flowers provides eye-catching colors and wonderful smells. Shrubs are an excellent method for bordering off the property in style. Clients and customers who feel good about the outside of the property will feel more inclined to inquire about what's inside as well.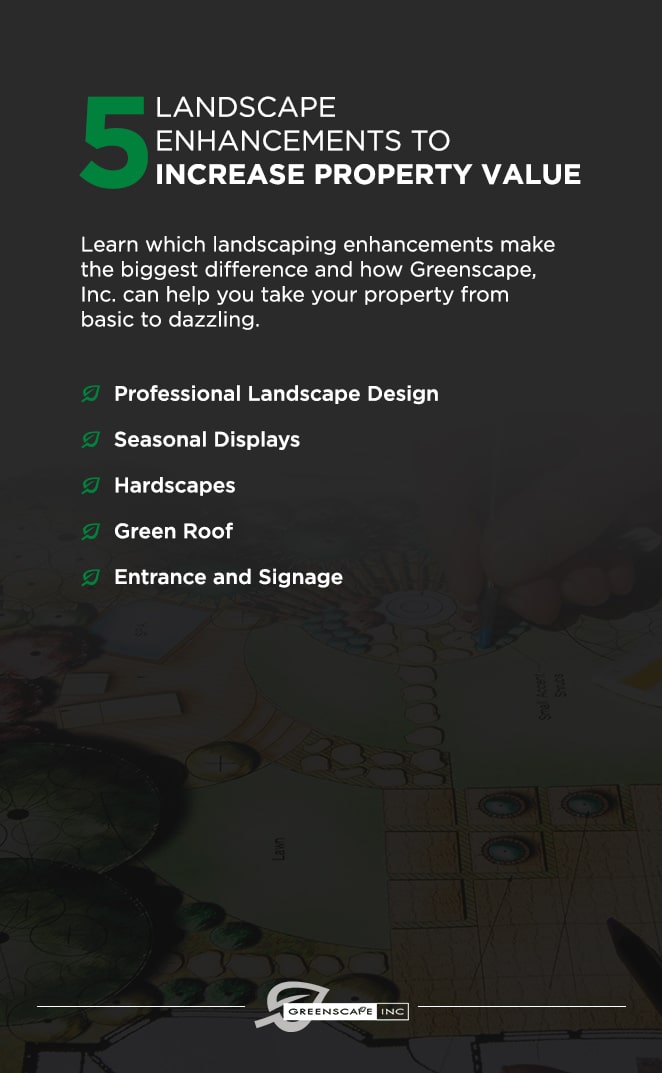 5 Landscape Enhancements to Increase Property Value
There's no doubt that landscaping enhancements add value and appeal to commercial properties. Learn which landscaping enhancements make the biggest difference and how Greenscape, Inc. can help you take your property from basic to dazzling.
Professional Landscape Design
No one knows landscaping better than the professionals. When property owners invest in professional landscape management services, they are investing in something that will be customized for their property's needs. When you contact a professional landscape management company, they should take the time to properly assess your individual property and its unique needs and potential.
At Greenscape Inc., our knowledgeable and experienced staff will evaluate your property and produce planting options, hardscape ideas, and maintenance costs that are the most suitable for you. Not only will our services help you to boost property value, but we will always be ready to assist you with maintaining your eye-catching new landscaping. After all, a well-maintained property radiates a welcoming and professional feel. To keep your commercial landscaping looking its best, it will need to be given the proper amount of attention. Greenscape, Inc. provides superior year-round maintenance services such as:
Mulching
Turf and plant care
Fertilization
Weed management
and more
Whether your property is small, large, or you have multiple locations, we will provide and maintain customized commercial landscaping solutions guaranteed to provide beautiful, long-lasting results.
Seasonal Displays
Your commercial property's appearance can look exceptional even through seasonal changes. A carefully selected and strategically planted array of seasonal flowers makes a huge difference in creating a good impression. Even the smallest of changes throughout the year can keep your curb appeal intriguing and inviting. The reapplication of mulch with some of the season's most iconic or holiday plantings are excellent commercial property landscape ideas.
At Greenscape, Inc., we offer any kind of seasonal flower displays that your property may require. No matter whether you wish to see an extravagant display with carefully designed flower beds or you want something more simplistic with potted plants, we can help you achieve the vision you desire.
At every point in the year, we provide only the most exceptional seasonal displays for a wide range of landscape environments including:
College and university campuses
Retail
Commercial offices
Apartment complexes
Homeowners' associations
and other settings
We specialize in choosing the right flowers for any time of the year. You can feel confident in knowing that your commercial property value will greatly increase with the unique and carefully designed landscape enhancements we offer, and that no matter the weather or time of year, your property will shine.
Hardscapes
If you have a new or existing property that does not have much curb appeal thanks to a lack of foliage or other interesting features, there is a solution. Commercial property hardscaping can elevate any location, especially in urban landscaping construction.
Not only can planting trees, shrubs, and flowers beds help to brighten an area, but a water fountain and other interesting features can turn your commercial property from ordinary to extraordinary. Lighting can also make a drastic difference in terms of visual appeal. Not only can it illuminate an area for a dramatic look, but it can also add safety and security for employees and clients. Fencing, which comes in a wide range of styles and colors to suit your needs, is also an excellent choice for marking off the boundaries of your property.
Using cutting-edge technology and only the best professional equipment, Greenscape, Inc. provides flawless upgrades through hardscape ideas for commercial properties like:
Stairs
Retaining walls
Patios
Walkways
Fire pits
Driveways
Paved walkways
Our professional staff can also install irrigation systems to help you care for your property's softscapes including grass, plants, and trees in the most efficient way possible. If lighting and water features interest you, we can help you select the right setup that suits both your property and your budget.
Green Roof
One of the greatest ways to make a visual statement and increase the visual appeal and value of your commercial property is by investing in a green roof. A green roof is a layer of foliage that is placed over a waterproof membrane on a traditional roof. They are widely implemented in lounging areas, around fire pits, barbecues, bars, and swimming pools, and a variety of other settings. Over time, the styling of green roofs has changed. However, even the most basic forms of a green roof provides a wide range of benefits including:
Stormwater management as a green roof helps to reduce stormwater runoff in addition to preventing flooding by controlling groundwater levels.
A cool building in the summer and a warm building in the winter, making a green roof a highly energy-efficient solution to reducing the costs of heating and cooling.
Cleaner air within the property as a green roof actually traps and filters air pollutants.
Longer-lasting roofing solution in comparison to traditional roofing since a green roof is resistant to damaging UV rays and fluctuations in temperature.
Greenscape, Inc., can help you turn even the most seemingly useless parts of your commercial property into an extremely valuable feature. Not only does a green roof provide functionality but it can also help provide a pleasant and enjoyable environment for both clients and employees alike.
Entrance and Signage
Enhancing the entryways and other important focal areas of your commercial property is a key factor to improving visual appeal. These areas are some of the first that your employees and clients see upon arrival and navigation of your property. Whether you have HOAs or commercial buildings, style matters when it comes to greeting guests.
Proper signage is a key component so that everyone visiting your property knows where they are and where they need to go. The first thing guests see while passing or arriving at your location is the company sign. Professionally designed signage that matches the personality of the business is one of the best investments you can make. Your signage should stand out and include a tasteful amount of colors in conjunction with an easy-to-read font.
Making a positive impact for your commercial property at the entrance can also be done by implementing unique and eye-catching details and features such as:
Water features like pools, streams, ponds, and fountains
Tree-lined walkways that provide a pleasant guide for leading visitors from one area of the property to another
Potted plants that add something simple but colorful to a lackluster space
Living walls that enhance the work environment visually through modernization and physically through air purification
When you want to make your commercial property as visually pleasing as possible, you can trust that Greenscape, Inc. will provide you with the designs and features to make you stand apart from the competition.
Landscape Enhancements Return on Investment
Investing in landscaping may seem like an unnecessary expense at first. However, it can provide a number of advantages in the long run. Find out why commercial property landscaping should become an investment for your business to not only increase property value and curb appeal but also boost other areas of your business.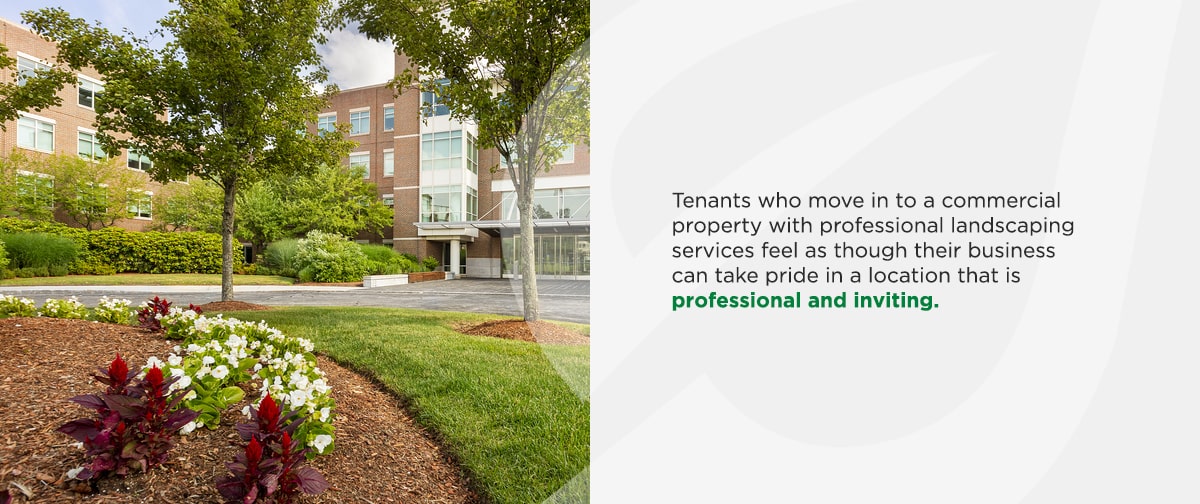 Overall Value
It has been proven that professional landscaping services have a positive impact on property values. In fact, a study completed by the Florida Nursery Growers and Landscaping Association showed that commercial properties that undergo professional landscaping see an increased sale amount of approximately 14% in as little as six weeks.
If that is not enough to prove that appearances make all the difference, an additional study performed by the University of Washington also showed the positive impact that a well-landscaped property has on customers and clients. Amazingly, it showed that customers are actually willing to pay up to 12% more for products or services provided by an establishment with professional landscaping services than those without.
There is also a bonus if you own rental properties. Another study done by the University of Washington showed that the returns on landscaping such properties prove to be greater than the initial investment. Commercial spaces that have a higher quality of landscaping are actually able to bring in 7% more rental revenue.
Tenants who move in to a commercial property with professional landscaping services feel as though their business can take pride in a location that is professional and inviting. The success of tenants will help to retain them for longer periods of time, especially when they are happy with their location. This will also prompt tenants to take good care of the interior so that it remains as nice as the exterior, and you can feel less concerned about the condition of your properties.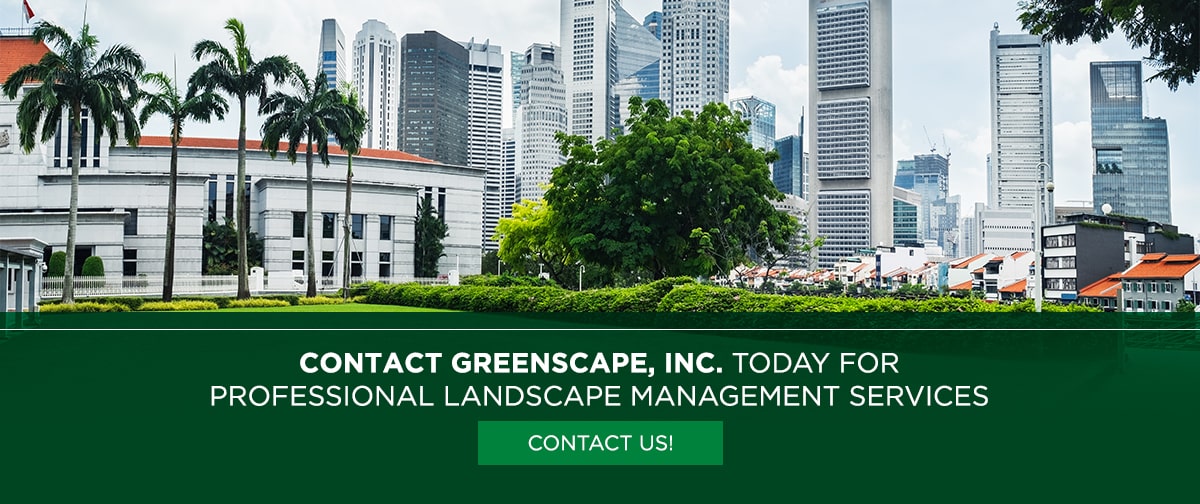 Contact Greenscape, Inc. Today for Professional Landscape Management Services
Choosing the right landscaping contractor matters when you want to get the results you need for your commercial property. Trust your property with only the best landscape management service around.
At Greenscape, Inc., we are an award-winning, full-service landscape maintenance company. With over 30 years of experience, we have been continuously dedicated to providing our clients with unmatched service. Our friendly and experienced staff provides customized experiences for every client. We are extremely detail-oriented and pride ourselves in completing all landscaping projects in a safe and timely manner. We offer a wide range of services that will suit any needs your commercial property may have including:
As professional landscapers, we also understand the importance of not just every client's commercial property but also helping to do our part for a healthy environment. All of our work is done using eco-friendly equipment such as:
Decibel-reducing small equipment
An electric fleet
Water conservation technology
Salt-reducing brine applications (for winter snow and ice)
We take the proper care and precautions to only plant species of trees, flowers, and foliage that are native to your specific location to help preserve the native plants already within the vicinity. Greenspace, Inc., is also dedicated to maintaining green practices, which means we only choose products that are sustainably sourced to provide you with the most beautiful and environmentally conscious landscaping designs around.
For professional landscaping services that increase your property value, contact us at Greenspace, Inc. today.