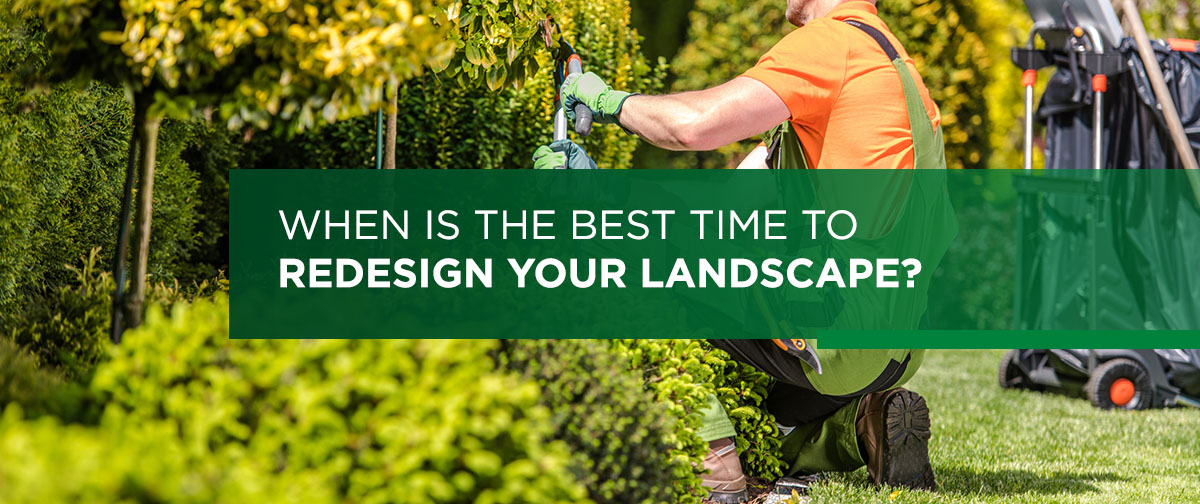 The last time you took a good look around your commercial property, did it feel like it might be time for a landscape redesign?
If you're thinking about booking commercial landscaping services for a redesign, you may be wondering when your project should begin. Between openings in the landscapers' schedule, weather concerns and planting seasons in your local climate, that can be a challenging decision to make. Whether you already have a vision for your new landscape or simply know you need something different, we'll take you through the benefits of re-landscaping and how to get it done.
Benefits of Redesigning Your Commercial Landscaping
Updating your corporate landscape is a significant investment, and as an investment, it will reward the time and money you put into it. When you redesign your landscaping you benefit your property by:
Attracting new business: Neat, up-to-date landscaping encourages positive public perception of your property. Well-maintained landscaping can encourage more customer and client traffic and increase the amount of money people are willing to spend. Sitting for 10-30 minutes in natural surroundings also reduces stress, helping tenants and employees improve and maintain their mental health.
Contributing to a sustainable environment: Redesigning your landscaping gives you the chance to choose more sustainable design elements. You can replace exotic or invasive species with native plants, which offer the advantage of being easier and more cost-effective to maintain. Planting additional trees can benefit both your property and the environment — trees absorb an average of 22 pounds of carbon dioxide in their first 20 years.
Enhancing safety: Working with a professional landscaping company can help you make your property's grounds as safe as possible. A professional assessment will identify areas that need improvement and create solutions for managing drainage and runoff. Outdoor lighting can keep your walkways well-lit and safe, and companies with hardscaping services will install or repair ramps and pathways.
How to Know When Your Commercial Property Needs a Landscape Redesign
When you see something every day, it tends to fade into the background — especially when it's also the background in a very literal sense. In these cases, it's good to make a point of taking a look with fresh eyes. Is your landscaping fresh, or has it started looking dated? Does it still create the atmosphere you want it to? If your evaluation is coming up short, it may be time to redesign.
Whether you've recently shifted your branding, rearranged your budget or just feel as though it's time for something new, a landscape redesign can refresh the face your property shows to the world.
When You Need to Reach More Customers
Your landscaping gives people their first impression of your property. The design should feel welcoming and draw people in, appealing to tenants, clients and customers. If you believe your property's appeal has waned, study the landscaping and ask yourself:
Does it feel inviting?
Is the building visible from the road?
Do the colors of the current flowers and foliage complement the building?
Are the paths clear, well-maintained and well-lit?
When It's Time to Rebrand
If your company is reinventing itself, your landscaping should reflect your new image. Low-maintenance plants and solar-powered outdoor lighting reflect a commitment to sustainability. Edged beds, pruned branches and well-maintained paths demonstrate that you value attention to detail.
Above all, ensure your landscaping represents your company and the ideals it's striving toward by making it:
Distinctive: The landscaping should make your property look unique.
Authentic: Make design choices that reflect your brand, values and location.
Memorable: Create a space that will be an enduring pleasant memory for people.
Cohesive: Ensure your landscape design fits together with the other aspects of your property.
When You Want to Improve Your Environmental Impact
Taking stock of your current design, you may be considering moving to something more sustainable. Perhaps you recently learned that lawn and garden equipment is responsible for as much as 5% of U.S. air pollution or that green roofs can reduce ambient temperatures by 5 degrees. You can improve your property's environmental impact by:
Saving water with drought-tolerant plants.
Reducing emissions from lawn equipment with groundcovers, moss and ornamental grasses.
Reducing erosion with native deep-root grasses and wildflowers.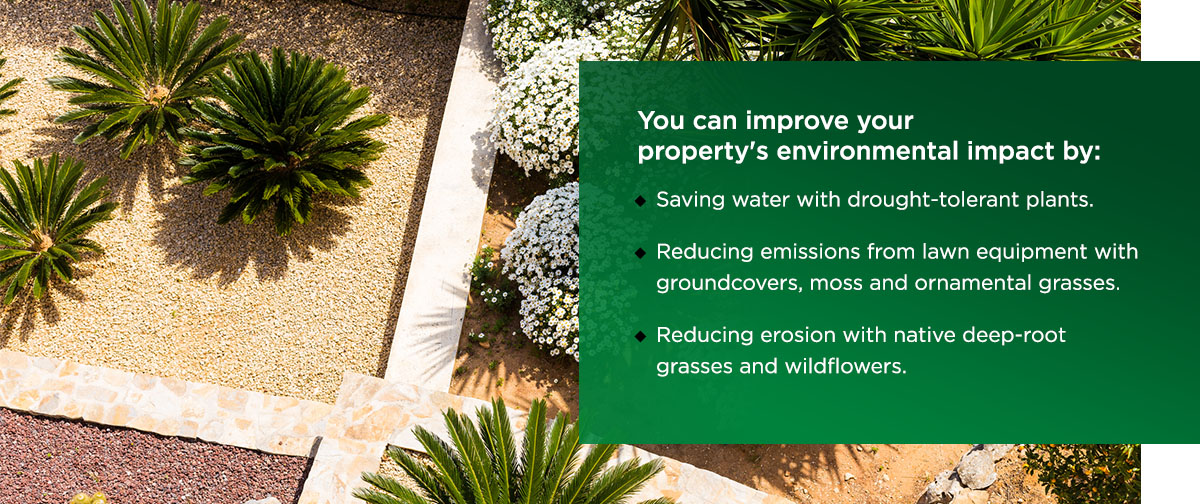 When Your Landscaping Looks Outdated
Your landscaping may be perfectly tended and maintained. However, if it received its most recent update in the 1980s or '90s, it may still include out-of-date features.
Working with a professional company will help you stay up to date on current landscape design trends.
What Landscape Enhancements Do You Need?
Now that you've decided to refresh your landscaping, you have more questions to answer. What changes should you be making? Should they be minimal, or should you start from scratch? What redesigns will be worth the investment?
Ask yourself these questions to determine what landscape changes you should make:
Do you want to keep any of the existing landscaping?
What elements of your current landscape design aren't working?
Are you still using your property the same since the last time you updated the landscaping?
Are there any maintenance issues with your current landscaping?
Have there been any weather-related landscape issues?
Do you plan to make further developments on your property?
Choosing Your Enhancements
Landscape enhancements are additions that add aesthetic or functional value to your landscaping — they're the details that define your design. Which enhancements you choose will depend on your space, your vision and any issues you need the new design to resolve.
Potential enhancements for your property include:
Tree and shrub installation: Installing shrubs and trees can provide shade and privacy while giving your property a sense of dimension. Enhance your landscaping with plants that will thrive in your hardiness zone. Ensure their location provides the amount of sun they need and is large enough to accommodate their fully grown size.
Hardscape installation and repair: Hardscaping refers to all the non-living parts of your landscaping, from driveways and walkways to stairs, retaining walls and fire pits. You can increase your property's safety, functionality and accessibility by adding and maintaining hardscaping. Hardscapes also let you incorporate new colors and textures into your design, providing interesting visual contrast.
Seasonal color displays: Planters and beds filled with ornamental foliage and displays of colorful seasonal flowers add interest to your landscape design, a warm welcome and an atmosphere of attentiveness to your property. Including these decorative displays also increase a building's curb appeal, enhancing your property's value along with its aesthetics.
Safety enhancements: Along with maintaining and repairing your walkways and other hardscaping, your property might also benefit from additional safety enhancements. Your design can incorporate intuitive wayfinding to channel people along safe paths, with landscaping lighting that improves visibility while showing off the surroundings. Any pathways should also be kept clean and any overhanging foliage trimmed back.
Green roof and green wall installation: Green roofs and walls can provide natural sanctuaries in urban areas where landscaping space may be limited. Using a traditional roof as a base, green roofs install vegetation over a waterproof membrane to create a living installation. Installing a green roof can provide a relaxing social space while helping to manage stormwater, increase a building's energy efficiency and improve the quality of the surrounding air.
When Should You Re-Landscape Your Commercial Property?
Once you have an idea of how to redesign your landscaping, you'll need to choose when you want the work to begin. Start planning as soon as possible to ensure you have enough time to finalize your design and book a quality landscape company.
Finding the best time to re-landscape will depend on your location and the types of projects you choose. Weighing these concerns will help you find your ideal landscape season.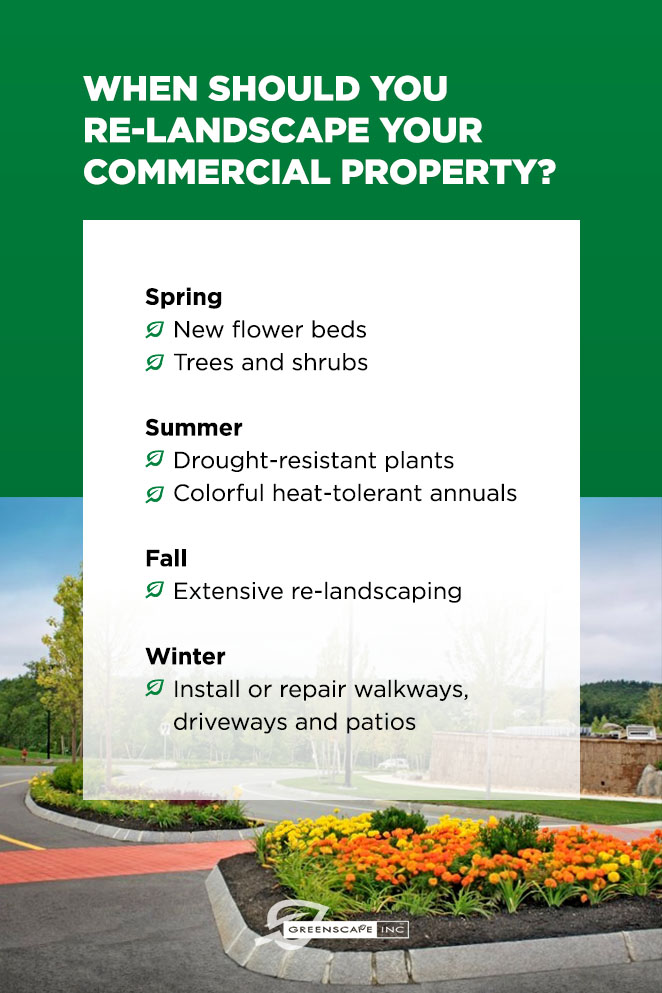 Landscaping in the Spring
Spring can be a wonderful time for a refresh. However, the weather at this time of year can be fickle. You'll want to time your springtime landscape projects between the year's final frost and the start of spiking summer temperatures. Consider a spring start for:
New flower beds: Spring is an excellent time to plant perennials for an easy, colorful upgrade.
Trees and shrubs: Plant nurseries tend to be heavily stocked in spring, giving you a wide range of options. However, you'll need to watch for ground that may be either frozen or too wet and ensure these plants get enough water to support both leaf growth and root development in the summer heat.
Landscaping in the Summer
The heat and humidity of summer place extra stress on many plants. As they spend more energy on growing and maintaining themselves aboveground, they may have little left to properly develop the roots they need to successfully transplant.
If you're planning a summer redesign, choose drought-resistant plants and colorful heat-tolerant annuals. Adding mulch will reduce evaporation from the soil, helping your new transplants conserve water.
Landscaping in the Fall
Fall is an excellent time for extensive re-landscaping. The air temperatures are milder while the ground still has some of summer's warmth, making near-ideal growing conditions. Planting in the fall puts plants at lower risk for shock from heat or frosts and lets them put all their energy toward taking root.
Redesigning in the fall will also let you establish a baseline for what your landscaping will look like outside of the prime growing season, ensuring your design will look good year-round.
Landscaping in the Winter
While winter's low temperatures and hard ground take installing new plants off the list of options, there are still upgrades you can make.
Hardscaping is an excellent winter landscaping project. Landscape companies typically have more time available in the winter, making it the best time to hire a landscaper to install or repair walkways, driveways and patios. You may also want to use this time to supplement or replace your outdoor lighting, ensuring your pathways and parking areas are well-lit during the darkest months.
When Is the Best Time to Landscape?
The best time of year to re-landscape your property will depend on your location and typical weather. While places with a late spring and early winter will have a shorter planting season, they may also have milder summers suitable for installing new plants. Other areas might experience seasonal storms or other weather patterns that limit the window for exterior landscaping projects.
Working with a professional landscape design company is the best way to decide when you should start re-landscaping. Their knowledge and expertise can help you make the design and scheduling choices that are right for you.
How to Plan Your Commercial Landscaping Project
The success of your landscaping project depends on how well you understand your purposes and needs.
You should already know your end goal when you begin the planning stage. Along with what you'll need to get there, be sure you know why you want to redesign and the effect you're trying to achieve.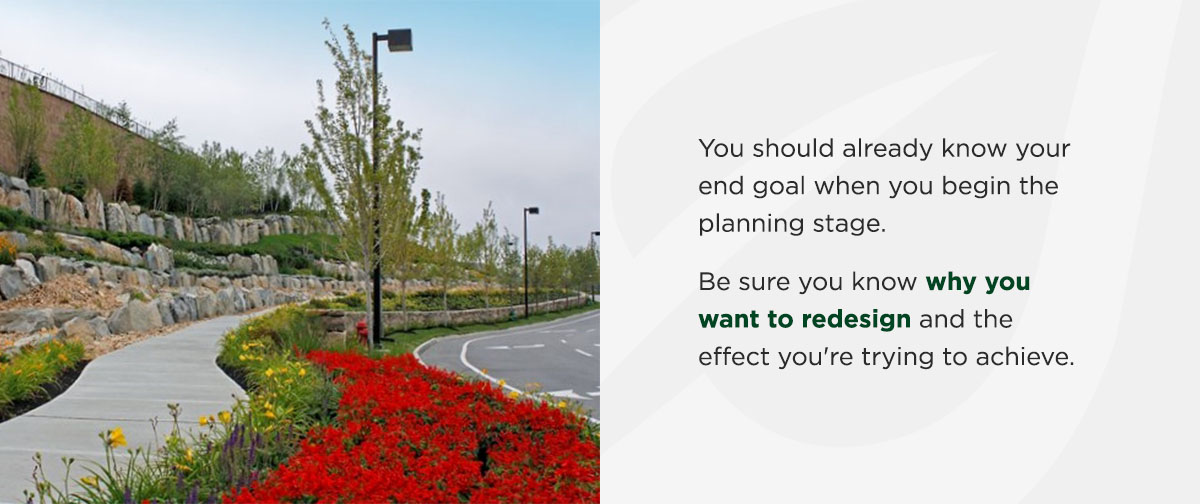 It's essential to begin your project with an idea of how much time and money you're prepared to invest. Once you have a firm grasp of your motives and intent, you can start by creating an initial budget and a rough timeline.
While you can simply hire landscapers to install your own design, working with established professional landscape designers like Greenscape Land Design lets you take advantage of professional resources and expertise from beginning to end. As an industry leader, Greenscape Land Design is an invaluable resource for planning your landscape redesign, whether your property is small, large or spread across multiple sites.
Assess
Greenscape Land Design begins with assessing your property to help determine the options for your project. We will:
Talk with you to understand your budget and the property's intended purpose.
Take measurements to establish the available space and layout.
Make note of the existing site conditions.
Note any features we'll need to consider in your landscape design.
Design and Install
With the assessment complete, the design process can begin. We'll help you choose enhancements that make the most of your space and increase your property's value, developing a design that fits your vision and your budget.
While tackling the full redesign at once can give you immediate results, phasing your re-landscaping over a longer time may be better for both the design and your budget. Greenscape Land Design will work with you to create a project schedule that ensures the best possible installation timeline.
Maintain
After your design and installation are complete, contracting a high-quality maintenance service allows you to sit back, relax and enjoy your new landscaping.
Greenscape Land Design uses industry-leading techniques and equipment, and our rigorously trained, experienced team members deliver customized maintenance. The people who installed your new landscape are the ones with the best understanding of how to keep it looking beautiful. Our professional grounds management services include:
Plant and turf care
Seasonal flower installations
Mulching
Fertilization and weeding
Contact Greenscape Land Design
If you're thinking of re-landscaping your commercial property, you have several variables to consider:
What time of year is best for the tenants, my budget and the changes I want to make?
Do I want to retain some portions of my current landscaping or start over from scratch?
What enhancements do I want to add to increase my property's curb appeal?
Can I make any changes that will produce a more sustainable design?
Greenscape Land Design can help you answer these questions and create a redesigned landscape that matches your vision.
Since our founding in 1987, we've committed ourselves to exceptional, consistently dependable service. Whether you need a commercial landscaping company for a single site or across a sprawling multisite location, our comprehensive services can make your property shine. Contact us today to learn more about how we can help you!